MILES x IKEA: This is the deal
Go to a participating IKEA store with MILES.
As soon as you enter the parking lot, a QR code will pop up in the app.
Show the QR code at the IKEA cafeteria & get a veggie hot dog + soft drink for free!
Extra benefit:
If you pay for your IKEA shopping with your IKEA Family Card, you'll get 5€ MILES credit on top! You can find the voucher code on your IKEA receipt.

Participating stores:
- Berlin: Lichtenberg, Waltersdorf
- Hamburg: Schnelsen, Moorfleet
- Munich: Eching, Brunnthal

MILES x toom: This is the deal
Get the latest app version.
Go to a participating toom store with a MILES of your choice.
Activate the parking mode (stopover).
Get 60 free parking minutes for the duration of your shopping.
Participating stores
- Berlin/Potsdam: Friedrichshain, Köpenick, Babelsberg, Stahnsdorf
- Munich: Neuaubing, Haidhausen, Moosach
- Hamburg: Pinneberg, Wandsbek
- Cologne/Düsseldorf: Langenfeld, Zollstock, Troisdorf
- Duisburg: Kasslerfeld, Wanheimerort, Rheinhausen
This is how you can find our deals in the app:
You can easily find all participating stores using the filter function in the app. They are also automatically shown on the map as soon as you have rented a MILES: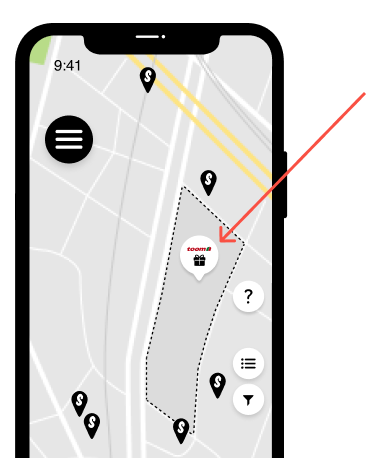 Please note:
Please abide by our general as well as local parking rules and avoid parking in covered car parks.
The rental cannot be terminated at the parking lot, even if it is located in the business area!
The participating stores may vary. Therefore, always check the app to make sure your chosen store is participating.
You will receive a hot dog + soft drink based on availability, MILES has no influence on any alternatives, special requests or customization of the product.
The value of the MILES voucher may vary.